Personal Loan Affiliate Program From Round Sky:
Next Level Profit
Affiliates have access to API, CPA offers, and easy to use website widgets. Lenders get access to real-time exclusive leads of consumers looking for a loan.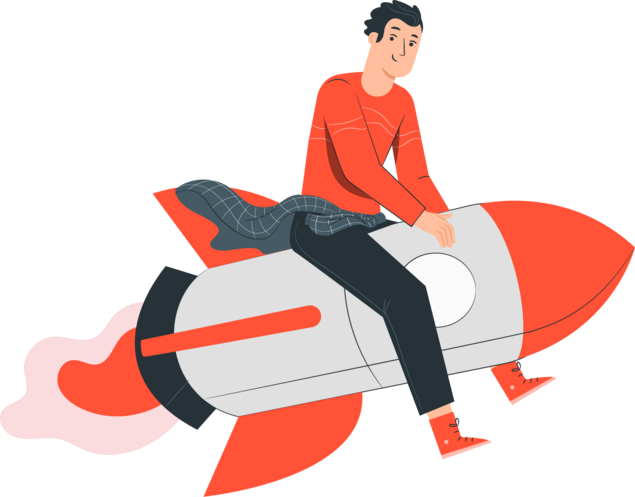 Affiliates
Get access to revshare & CPA offers, API interface, and website widgets, all with weekly and monthly payouts.
Affiliates Learn More Below↓

Lenders
Receive live and exclusive leads delivered in real-time as customers submit their information online.
Lenders Learn More ⟶
Join Round Sky, the best Personal Loan Affiliate Program on the market, working with affiliates and lenders since 2006.
You can hardly find a working adult who has never considered the idea of taking out a personal loan for one reason or another. Participating in a personal or payday loan affiliate program is an excellent way to guide people looking for reliable loan options, as well as earn a nice commission check for yourself.
Open an Affiliate Account in 3 Easy Steps:
Step 1:
Step 2:
Setup your PPC/Email/Ads/Widget or API campaigns
Step 3:
Start earning up to $250 per lead with no commission caps.
How to Become a Personal Loan Affiliate with Round Sky:
FOR AFFILIATES:
Real-time reporting available 24/7
Once you've signed up as an affiliate, you'll receive a login to our real-time reporting that will have a real-time breakdown of your revenue earned from CPA offers, website widget (iframe), API posted leads, etc. You'll also see daily projections based on what you've done so far.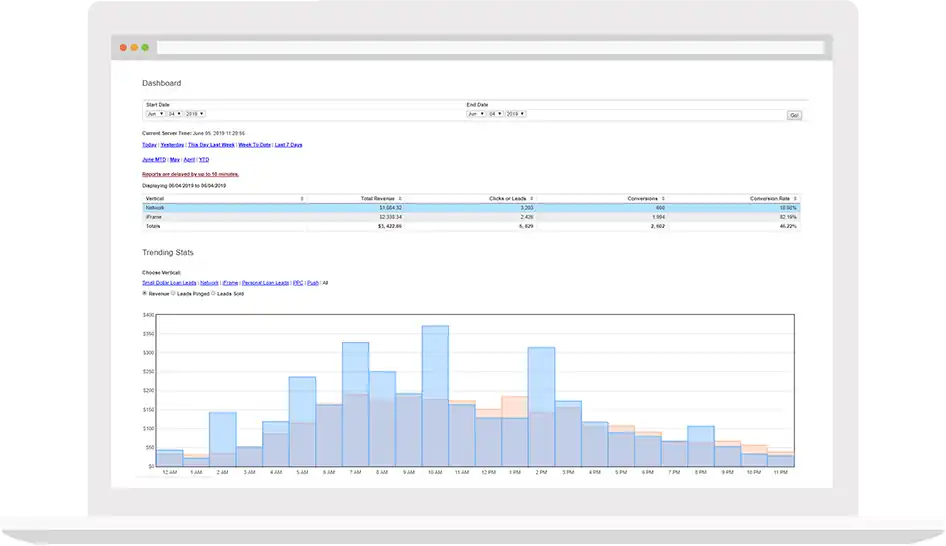 EARN MORE:
Earn up to $250 per lead
We specialize in loans, nothing else. Your revshare is our business.
Get higher payouts faster than any other network in the space.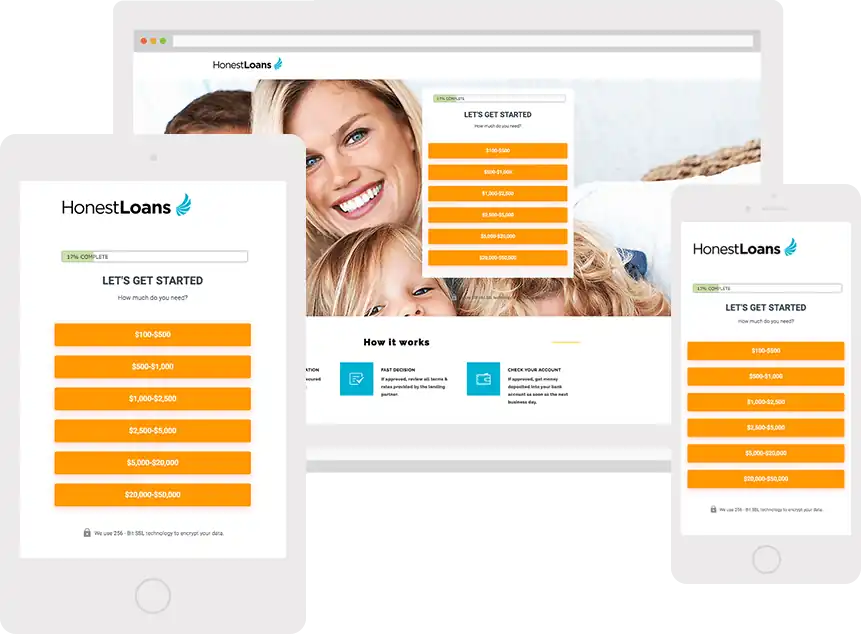 MOBILE FRIENDLY WEBSITES:
Offers that work on virtually all devices!
We own and operate our revshare and CPA offers. Get the highest payouts possible on offers that work on virtually all devices. We support dual-level sub-id tracking and custom pixels too!
Start Earning a Commission in 3 Simple Steps
1

Open an Affiliate Account
After you sign up, you will receive all the necessary marketing materials, including Revshare & CPA offers, API instructions, and website widgets.
2

Set Up Your Campaigns
Drive customers to our loan offers or host our iframe simple online form on your own website!
3

Start Earning
Earn money for the leads that you generate. Receive payouts monthly or weekly via ACH, PayPal, Wire, or check.
What Comes with Round Sky's Personal Loan Affiliate Program?
EASY TO USE:
WEBSITE WIDGETS
Choose from multiple templates and colors to fit the look and feel of your website. With a simple copy & paste, you'll get the full form integrated on your website so your website visitors don't have to leave your website to submit their information.
FANTASTIC SERVICE:
ON-TIME PAYMENTS
⟶ Get paid by ACH, Check, PayPal, or Wire.
⟶ Online interface for you to check your daily reports.
⟶ Weekly & Monthly payment schedules.
⟶ No shaving, no scrubbing, no hassles.
Round Sky Personal Loan Affiliate Program FAQ
Becoming a loan affiliate means that you will refer consumers who are looking for a loan to lenders who are looking to fund such loans. This process can be facilitated through Round Sky. After you sign up for an affiliate account, you will gain access to 50+ lenders, and for referring consumers to the lenders, you will earn a handsome commission.
Loan affiliate marketing is the process of referring consumers who are looking for a loan, to a lender that can service their request. This can be done by writing blog content, advertising to your followers (if you're an influencer), and doing pay-per-click marketing, or email marketing, to name a few. There are many ways to do marketing to drive consumers to advertisers and earn a commission.
Joining an online affiliate marketing program is a simple and cost-effective way to earn additional commission. It's easy: you promote an online offer or loan request form on your website and receive a payout every time your visitor submits a valid loan request form.
There is no limit to how much you can earn, but your commissions can vary depending on the offers you promote. With our CPA offers, pay-per-action platform, and our revshare offers, you get paid a revenue share of the total revenue earned, up to $250 per lead!
Yes, even though we have the best payday loan affiliate program, after you join our affiliate program you can continue participating in other programs at the same time.
You will be paid either monthly or weekly. Please confirm payout terms with your affiliate account manager once you sign up.
Affiliate commissions can be paid out via ACH, PayPal, check, or wire transfer.
In our real-time reporting platform, you will be able to see the detailed breakdown of your commissions earned through API-posted leads, CPA offers, the website widget, and more. You will also be able to review daily projections based on your current performance.
Yes, you can. We work with affiliates from all around the world, as long as you generate traffic that is located in the US.
The Benefits Of Our Personal Loan Affiliate Program
Our promise to you:
Round Sky is dedicated to delivering consistent results, and the highest revenue possible per lead to our affiliates. Drive traffic to our Revshare and CPA offers, use our website widget, or work with us via API, and we'll work day and night to get you the best commission possible!
Reputation for on-time payments:
Every year we pay out millions of dollars to affiliates, always on time, always on schedule.
Real-time tracking you can trust:
Track your revenue with our real-time reports and see commissions all online with our always-available 24/7 reporting platform.
Optimized websites and templates:
Gain access to our offers that have been A/B optimized and iframe widgets that have been tested to the moon and back.
Dedicated affiliate support:
Our affiliate managers are available by phone, email, Skype, Telegram, and other platforms that our affiliates prefer. Have questions? We have answers!
Round Sky delivers consistent, high-quality results
for both affiliates and lenders.


What Affiliates Say About Round Sky
"Round Sky Inc has been a trusted partner of ours for over 5 years. Their team effort
and innovative technology has delivered the performance we look for time and time again."
Matt Y. | Affiliate representative
"We've worked with Round Sky for nine years, and everything about them has been top
notch professionalism. From their customer service to timely payments, I would highly recommend them to anyone."
Nathan R.| Affiliate representative
"I love working with Round Sky. They are one of the most professional companies in
the industry. They are always responsive, courteous and always there when you need them."
Mohib Y.| Affiliate representative